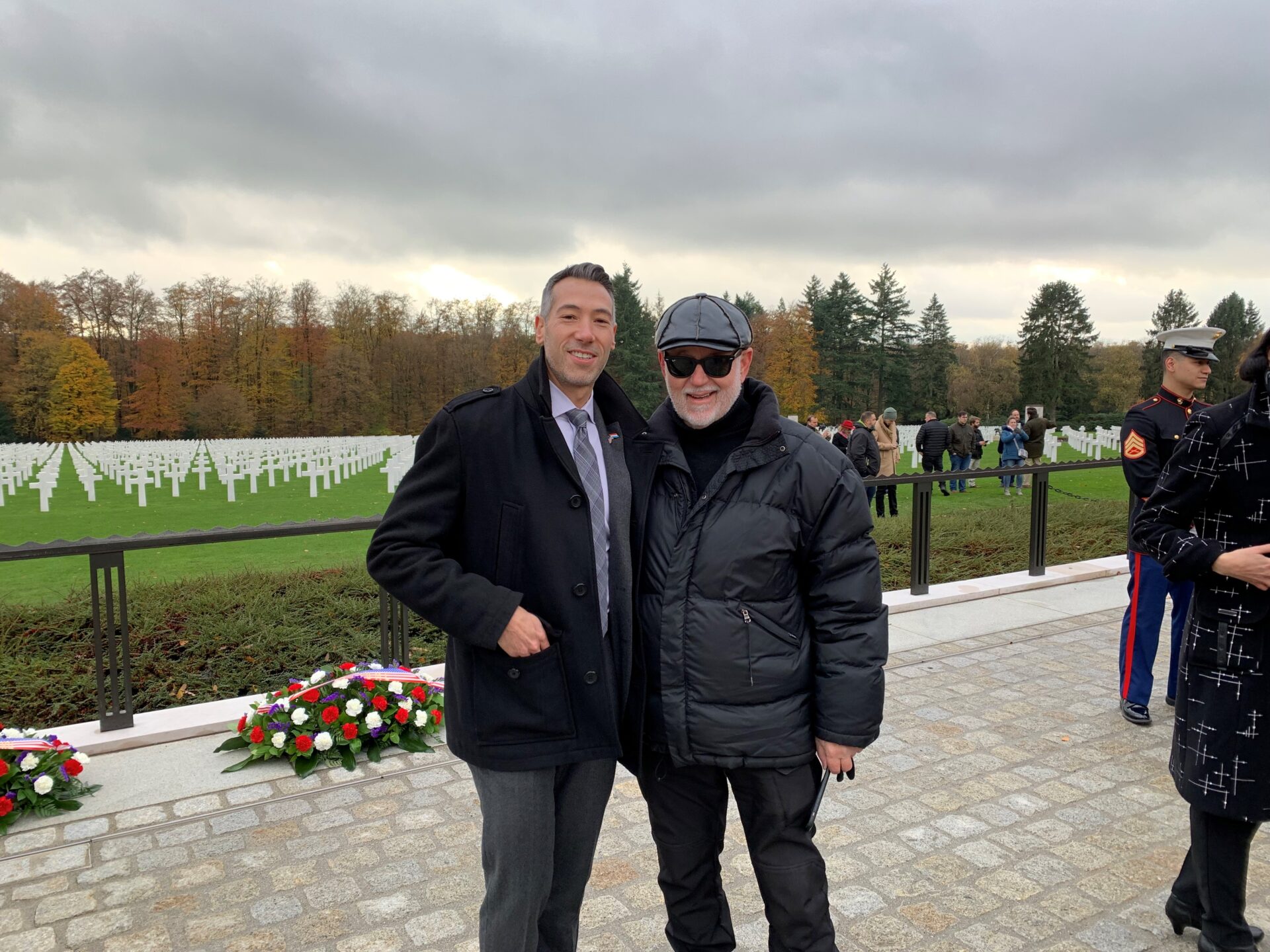 Good morning and welcome – thank you all for joining us at today's Veterans Day ceremony:
Honored veterans and service members
Col. Crofton
Lt. Col. Lamesch
Commissioner Pettigrew
Dear guests, friends, and colleagues…
Every year on Veterans Day, we gather here at the American Luxembourg Cemetery, the final resting place of American soldiers who made the ultimate sacrifice in the name of peace in Luxembourg and in Europe.
Today, also marks Armistice Day, the day that brought an end to hostilities at the Western Front during World War One.
We gather here today to honor all the soldiers who served in World War One and in ALL our nation's conflicts, and also those who serve today to protect and preserve the peace and freedom that we hold so dear in our hearts. We are here to express our gratitude for their dedication, bravery, and unwavering commitment; ideals that serve as a shining example for all of us.
President John F. Kennedy once said: "Valor is stability, not of legs and arms, but of courage and the soul". President Kennedy's words echo that true bravery goes beyond mere physical attributes; it involves a deep internal conviction and determination to face challenges and adversity.
On Veterans Day, President Kennedy's profound words hold special significance as we are reminded that our service members — past, present, and future — exemplify true valor in service to our nation. It is their courage and unwavering spirit that President Kennedy spoke of when they put their lives on the line to protect our freedoms and way of life.
Recent history has demonstrated how fragile freedom and peace are everywhere in the world. But we are also reminded of the immense power of unity and the strength that can be found in our shared commitment to a cause greater than ourselves. That is the same inspiration that drives our service members every day.
We witnessed this dedication first-hand two weeks ago when Ambassador Barrett met with a 101-year-old U.S. Army medic and a 100-year-old U.S. Navy sailor, two incredible WWII veterans who undertook an historic trip to Luxembourg to retrace their fight for Europe's freedom. They proudly fought numerous battles to liberate Luxembourg and the rest of Europe from Nazi occupation.
Their visit reminds us how important it is to listen to our veterans. Their experiences hold stark lessons for our future and bring meaning to the causes of sacrifice, resilience, and service. Today, I urge everyone to reach out to a veteran. Take the time to listen, learn, and express your gratitude. I will be doing just that later today when I call my father, who served in Vietnam. And I'm doing it now as I salute my husband — here today — who courageously served his native country in his youth. I am proud to also salute our very own U.S. Embassy Marine Security Guard detachment, made up of soldiers who will one day be proud veterans. I salute all of you here today who have defended freedom.
May we always remember the courageous men and women who have served and continue to serve, and may we never forget the tremendous debt we owe to them.
Thank you to all our veterans, past and present. And lastly, thank YOU for taking the time to remember with us here today!
Happy Veteran's Day!