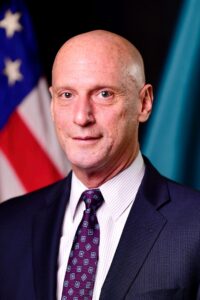 AMCHAM: Please introduce our international audience to the state of Delaware
SECRETARY OF STATE BULLOCK: The first people to call Delaware home were the Native Americans whose descendants remain here today as members of the Lenape and Nanticoke tribes. In the 1600s, Dutch and Swedish settlers established colonies here that were later governed by William Penn, the famous proprietor of Pennsylvania. Delaware's official nickname is "The First State", a title we earned when we became the first state to ratify the United States Constitution on December 7, 1787. Delawareans are proud of our role in U.S. history, and we celebrate it each December 7th with our very own holiday, Delaware Day.
With a population just over one million people, Delaware is the 5th smallest state in the U.S. by population. The state of Delaware has three counties: New Castle, Kent, and Sussex. The capital is Dover and is centrally located in the middle of the state. The biggest city is Wilmington and is home to the current 46th President of the United States, Joseph R. Biden, Jr.
Governor John Carney is the chief executive of the state and the commander in chief of the Delaware National Guard. The General Assembly, Delaware's lawmaking body, is comprised of a State House of Representatives, whose 41 members are elected for two-year terms, and a State Senate, whose 21 members are elected for four-year terms. The State Supreme Court consists of a chief justice and four associate justices. All members are appointed by the governor, with confirmation by the Senate, for a term of 12 years.
Delaware has been the center of business law and corporate governance for decades. The State's Court of Chancery is unique in that it is a court of equity—not a court of law. The court has existed since 1792. The consistent balance and expertise of its decisions and those appointed to the bench have made Delaware's Court of Chancery world renowned.
Agriculture is a very big industry in Delaware. Our main agricultural products include broilers, soybeans, corn, milk, and chickens.
To learn more about our state, visit https://de.gov.
Please explain why Delaware is an attractive domiciliation location for international companies wishing to establish themselves to do business in the USA.
Over 1.9 million legal entities are incorporated in the state of Delaware. The First State continues to be the domicile of choice for the Fortune 500, with approximately 68.2 percent calling Delaware their corporate home.
Business owners and investors have the discretion to select any jurisdiction as their legal home for their business entity. However, they consistently choose Delaware for four main reasons:
1. Delaware's General Corporation Law is widely regarded as the most advanced and flexible business formation statute in the nation.
2. The Court of Chancery is a unique, centuries-old business court that has written most of the modern U.S. corporation case law. Their commitment to settling cases that come before them in an equitable manner is unrivaled.
3. Delaware Corporate Law is reviewed annually by the state's corporate and legal services community. The group has unparalleled expertise in the application of Delaware Corporate Law and receives strong, bipartisan support from the Delaware General Assembly and our Governor for its efforts to continuously improve the State's laws.
4. The Delaware Division of Corporations offers a wide array of services to meet the needs of the corporate community while providing prompt, friendly, and professional service.
As Delaware Secretary of State, promoting the great state of Delaware, domestically and abroad, is part of my commitment in ensuring that the Division of Corporations continues to meet the needs of our customers.
To learn more about the Division of Corporations or reasons why businesses choose Delaware, visit https://corp.delaware.gov/stats.
Explain the specific steps and costs which are required to establish a Delaware-based business.

1. Choose your business entity type. Whether you would like to form a Corporation, Public Corporation, Limited Liability Company (LLC), Limited Partnerships (LP), Statutory Trusts, or General Partnerships (GP), the first step is to choose a business entity. Please note that the Division of Corporations does not provide legal advice.
2. Obtain a registered agent. Delaware law requires that every business entity have and maintain a Registered Agent in the state of Delaware who may be either an individual resident or business entity that is authorized to do business in the state.
3. Reserve your entity's name. Although not required, you are allowed to reserve your entity's name for a period of 120 days.
4. Submit Certificate of Incorporation/Formation Forms. You must submit forms to complete your entity's Certificate of Incorporation and other formation forms.
5. Submit Certified Copies and Certificate of Status/Good Standing. Some financial institutions will require a good standing certificate or a certified copy of your new entity filing. You will need to check with your financial institution to determine whether additional information is required to establish a business account with them.
6. Pay incorporation fees. All corporations incorporated in the state of Delaware are required to file an Annual Report and pay a franchise tax. Exempt domestic corporations do not pay a tax but must file an Annual Report. Limited Partnerships, Limited Liability Companies, and General Partnerships formed in the state are not required to file an annual report but are required to pay an annual tax of $300.00.
For additional information, please visit https://corp.delaware.gov.
Please provide the contact details of the state of Delaware offices and officials which interested foreign companies and individuals should contact to further discuss the various aspects of establishing and running a business within the state of Delaware.
The Division of Corporations at the Delaware Department of State has customer service representatives who are able to answer questions and assist you in filing your corporate, UCC, and tax documents. Via our website, you may pay your annual taxes, file corporate annual reports, file UCC 1 and UCC 3 documents, reserve your entity's name, validate certificates, and much more.
The Division of Corporations' business hours are Monday through Thursday, 8 a.m. to 12:00 a.m., and Friday, 8 a.m. to 10:00 p.m. (EST).
Our in-person location is located at the John G. Townsend Building, 401 Federal Street, Suite 4, Dover, DE 19901. Our mailing address is PO Box 898, Dover, DE 19903.
We offer live support available from 8:30 a.m. to 4:00 p.m. (EST), Monday through Friday excluding state holidays. You may call us and speak with a customer service representative from 8:00 a.m. to 4:30 p.m., Monday through Friday at (302) 739-3073.
To email us, upload business entity filings, or learn more about the Division of Corporations and how to incorporate, visit https://corp.delaware.gov.
Please provide a SWOT comparative analysis of Delaware as an operational location for international companies seeking to establish themselves in the USA as compared to other alternative domiciliation locations.
We have a dedicated website: https://corplaw.delaware.gov that provides in-depth detail as to why Delaware is chosen as an operational location for international companies. The website offers extensive information and resources, and is translated into many languages for easy access.
The views and opinions expressed are those of the authors and do not necessarily reflect an official policy or position of AMCHAM.lu. Any content provided by our interviewees are of their opinion, and are presented in their own words.