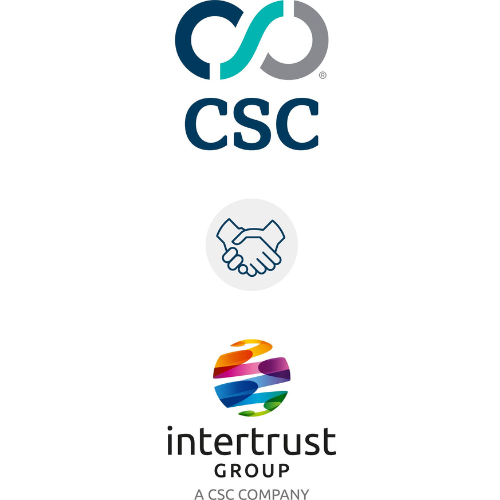 CSC and Intertrust Group Create Dynamic Global Organization
CSC® and Intertrust Group joined together as one organization on November 7, 2022, to create a company providing business administration and compliance solutions to clients in more than 140 jurisdictions worldwide. The organization does business with more than 90% of the Fortune 500®, more than 90% of the 100 Best Global Brands®, and more than 70% of the PEI 300.
A strong history and bright future
Founded in 1899 and based in Wilmington, Delaware, U.S., CSC prides itself on being privately held and professionally managed for more than 120 years. Rod Ward III, a direct descendant of one of the company's two founders, has served as president and CEO of CSC for almost 13 years and leads the combined organization. Bringing together the complementary expertise, capabilities, and geographic scope of CSC and Intertrust Group will enable the organization to provide the industry-leading service their clients expect.
Thanks to a world-class combination of people, processes, and technology solutions the combined company is well-positioned to successfully navigate the ever-changing compliance and regulatory environment that clients face. The firm's clients will also benefit from being served by a stable strategic partner that has been in business under common ownership for more than a century.
CSC has a long history of success in acquiring and integrating companies in a manner that benefits both clients and employees. Employees appreciate the stability that comes from being a private company with a strong financial foundation and long-term perspective, and they have a passion for working with each other to best serve clients. As one company, CSC and Intertrust Group have the combined expertise of more than 8,000 dedicated employees with global capabilities, allowing the company to provide "follow the sun" service and help clients wherever they are. CSC and Intertrust Group began business integration activities immediately and will roll out a refreshed, unified CSC brand in early 2024.
About CSC
CSC is the world's leading provider of global business administration and compliance solutions, specialized administration services to alternative asset managers across a range of fund strategies, transactions involving capital markets participants in both public and private markets, domain name system management and digital brand and fraud protection, and corporate tax software solutions. We are a global company capable of doing business wherever our clients are—and we accomplish that by employing experts in every business we serve. We are the business behind business®. Learn more at cscglobal.com.