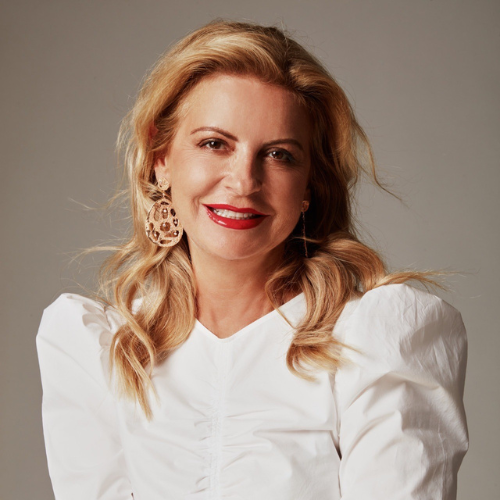 Fabienne Belnou is a Luxembourgish jeweller, designer and creator.
AMCHAM: Please introduce yourself to our members so we know you as both a person and as a retail establishment
INTERVIEWEE: I am Luxembourgish of French origin, and I grew up in the creative and entrepreneurial Parisian environment, which gave me the desire at a very young age to found my jewelry brand in 1993 in Luxembourg City. The "Fabienne Belnou" jewelry and production workshops are located 200 meters from the Grand Ducal Palace, at 5 rue du Marché-aux-herbes, 1728 Luxembourg.
My specialties are the creation, transformation, and restoration of antique jewelry. We are also recognized for the originality of our unique, handmade creations.
 I am fortunate to be surrounded by a dynamic and passionate team, including my daughter Charlotte and Lauro Lichius, Master Jeweler and director of the manufacturing workshop.
What are the values which guide and drive you in your business life?
The values that I hold most dearly are kindness, listening, creativity, sharing, and transmission.
It is because of these values that I am passionate about my profession, and my greatest reward is to see the joy and wonder in the eyes of my clients.
The past several years have held many challenges for retail establishments. Please explain three major challenges you have faced and what have you done to overcome them.
Finding the right balance between restarting our business and maintaining a healthy cash flow.
We immediately responded by creating an online sales website, where our customers can purchase our collections and some of our unique pieces.
What do you consider your three biggest successes and why?
my children Charlotte and Karl
living off my passion
having created a loyal and long-lasting clientele
What do you consider your three biggest failures and what have you learned or what would you do differently about them in hindsight?
For my part, I believe that there are no failures in life, but rather less successful experiences that allow us to go further.
What support did you receive from the government to stay in business during the covid period?
The right to put our employees on partial unemployment, in addition to various financial aid granted by our government.
As a small business owner, are you satisfied with business conditions in Luxembourg?
We are fortunate in Luxembourg to have the Luxembourg Chamber of Commerce, which is very active in promoting and developing the country's businesses.
In fact, we were selected by the Chamber of Commerce to represent the Grand Duchy at the Dubai World Expo during the "Made in Luxembourg" week.
Furthermore, we had the honor of receiving the Design Contest 2017 award for the layout of our new jewelry store on Rue du Marché-aux-herbes in the historic district of the city.
What business conditions would you like changed and how?
Perhaps trying to make the city center more dynamic with targeted commercial actions such as nighttime events… or making commercial spaces more accessible, thus enabling young people to access entrepreneurship.
What are your plans for your business over the coming two years?
My daughter, Charlotte, has joined the family business as a Project Manager and is largely responsible for the development of the brand internationally.
What are the similarities and differences between Local Luxembourg and Expat clients in their expectations and engagement with you and your business?
There is not much difference actually. We have a multicultural clientele with specific expectations such as exclusivity, made-to-measure, creativity, and local artisanal manufacturing.
The views and opinions expressed are those of the authors and do not necessarily reflect an official policy or position of AMCHAM.lu. Any content provided by our interviewees are of their opinion, and are presented in their own words.