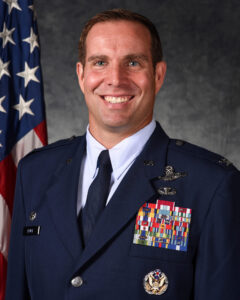 AMCHAM: Please introduce yourself so our members can know you both as a professional Air Force Career officer and also as a person.
Col. Leslie F. Hauck III : Col. Leslie F. Hauck III (Toro) is the Commander of the 52d Fighter Wing, Spangdahlem Air Base, Germany where he leads a wing that maintains, deploys, and employs the F-16 Fighting Falcon and other assets in support of NATO and U.S. This wing supports Europe with personnel and systems providing integrated deterrence, expeditionary air power for suppression of enemy air defenses, counter air, air interdiction, and close-air support. He is a career F-16 pilot with over 2,500 hours in the F-16, including 285 combat hours in support of Operation Enduring Freedom, Iraqi Freedom, and Noble Eagle (homeland defense). The wing played a key role in the recent Afghanistan exit and in support to NATO after Russia's invasion of Ukraine.
Please tell our readers what drove you to have an Airforce career, and what were your career highlights and best experiences before coming to Spangdahlem Air Force base for your current assignment.
My first flight in an operational F-16 squadron was at Cannon AFB (Clovis, New Mexico) in 2001, after graduating in 1998 from the United States Air Force Academy and going through the "pipeline" of training in various aircraft to get to that "mission ready" F-16 pilot stage.
I am thankful for world-wide experiences that I've had during my Air Force career, though that has meant a lot of moving. I moved between Luke Air Force Base and Korea for the first part of my career, serving at both Osan, Yongsan, and Kunsan bases in Korea, until somehow after Air War College things changed. I had just completed my assignment in Alabama, and moved to Washington D.C., where I began working in the Pentagon in the Operations Directorate. I got a call that I'd been picked up for full bird Colonel, and was to move again, but this time to Ramstein Air Base in Germany.
While that was another Permanent Change of Station, and my family and I had only lived in the National Capitol Region for about six months, we were "all in" to have the chance to (after serving for 20 years), finally be stationed in Europe.
After being at Ramstein for two years, I was incredibly blessed to be sent to Aviano for two years, to serve there as the Operations Group Commander. And, to follow that up to get an assignment here, at Spangdahlem Air Base and part of the 52d Fighter Wing…wow! I know it doesn't get any better than this. That said, my wife and I look forward to now, after six years in Europe, moving back to the United States and surprisingly back to where we were six years ago—the National Capital Region and the Pentagon. I just wish I would have bought a house there six years ago!
What are the values you adhere to and follow which inform your leadership decisions­?
Communication, inspiration, and trust. If you start at the top and lead that way, it will encourage others to do the same.
The words "Mission-Airmen-Community" are posted clearly on our front gate. Those are our enduring priorities, from which we define lines of effort to make ourselves not only mission ready but make ourselves better—with aim to be the best base and have the best Airmen, families, and community relationships in the United States Air Force. I've worked with our leadership team here to define key words for our lines of effort; ultimately, this helps us communicate what's important, and how we "get after it."
For instance, we recently had a 'Mission' lines of effort strategic thought session, and we look at deterrence, defending the base, and how—if we're called upon—we're ready to dominate. Those areas set exactly what we look at for priorities, and includes things like furthering Air Base Air Defense, ground defenses, surety, and training fighter pilots. A very important part of my job is also communicating this at other geographically separated units, and they have all done a great job ensuring the wing can provide airpower options to the combatant commander to deter and combat aggression.
My leadership philosophy is to emphasize the importance of why we are here and emphasize what we do that contributes to the national security of the United States and our Allies. I think our Airmen, families, and community get that, but we have to repeat, repeat, repeat.
I try to go out multiple times each week—if not each day—and tell the story of what Saber Nation and our Saber Airmen are doing…tell them how it all comes together, and what I get to see at my level for the success that the collective efforts of our Airmen bring for integrated deterrence and mission readiness.
Further, I try and not "close control" much with my subordinate commanders, and let them make decisions. I point them in a direction, and let them move out. If I'm always telling them what to do, it stifles innovation and leadership. When they see me doing that, they then do it at lower levels too. This has allowed us to move fast, be the best, encourage leading without fear, and innovate. Sure—sometimes we have slip-ups, but we learn from them. I try to not focus all on what went wrong when they happen, but on what went right and then, all of a sudden, folks are not having slip-ups. Plus, in those situations, you've got to be careful to not "hammer" whoever screwed up, or they'll never try again. You have to do it the right way.
What has been your biggest professional disappointment and what have you learned from that experience?
I try and not focus on disappointments. Sure, there's some things that I—at the time—would have liked to go a different direction, but I think all those moments have defined me, and while sometimes I still look back on a couple events and think "what if?" I must remind myself, it's really nice that things worked out this way…it was all the road I was supposed to take. We'll see what's next!
Please tell our readers about the mission of the 52 Fighter wing.
The 52 FW is responsible for providing Airpower with our F-16CM Fighting Falcons to deter and combat aggression. Our 480th Fighter Squadron is one of only two fighter squadrons within U.S. Air Forces in Europe with the focus of providing suppression of enemy air defenses (SEAD). However, it's important to recognize the accomplishments of Saber Nation and our support to our host and joint partner nations in the region by more than just our kinetic response capabilities. We have played significant roles in humanitarian aid missions like that of Operation ALLIES REFUGE, historic floods in the area, and most recently the earthquakes in Turkey.
Ed. note: Please click here to download a full 52 FW factsheet
Spangdahlem appears to be unique in the closeness, cooperation and friendship between the assigned fighter wing personnel and the inhabitants of the Eiffel region. Please tell us about that and what both sides do to keep that special relationship alive and active?
Throughout the years, our Host Nation Council and Honorary Commander program have helped us maintain steady communication with our local community leaders about base activities and initiatives outside the gates of Saber Nation, and we are well-integrated in our local villages as fellow community members. One example of this came the day before I even took command of the 52 FW, when historic floods devastated homes in businesses throughout the area. Our Airmen jumped at the opportunity to help deliver sandbags, clean away debris and help our German neighbors wherever they could. Since then, Saber Nation has partnered with our German Luftwaffe partners and other NATO allies countless times for both training and for defending NATO's eastern flank.
Clearly the situation in Ukraine has resulted in a significant mission impact on the 52ndFighter Wing. To the extent you are able, please share the challenges and highlights of this mission increase and what you and your staff have done to rise to these challenges?
The 52 FW has always stood ready to respond in a time of crisis. Aside from the COVID-19 pandemic, we have responded to local, regional, and international natural disasters and flexed to support countless missions. In February 2022, we deployed to Romania to support the defense of NATO's eastern flank. It just goes to show that no matter the challenges we have faced, Saber Nation has always been ready to meet them head on through innovation and professionalism. Our Airmen represent multiple recent Spark Tank winners for innovation out in the field. Everywhere I look, I see Airmen who are not only trained and equipped but motivated to make things better not just for themselves but for the Air Force as a whole and for our local partners.
You and your team have made life-long friends in Luxembourg by allowing the team of private aeroclub pilots from Luxembourg to fly thirteen private aircraft onto the airbase for a wonderful day ling tour experience. How did that come about, how did you get approvals and what has been the outcome experience for you and your team?
 I reflect fondly on the Luxembourg fly-in event where we had 13 private aircraft, NATO Ambassadors and leaders in the Luxembourg community, including the US Ambassador—visit our base. It allowed us to show-off Airpower, but also inform all that the 52 FW was doing in support of NATO, in NATO's response to the Russian invasion of Ukraine. We took a great picture that day, that had all the distinguished visitors in it, but also the airplanes we had at the base at the time flying Air Tasking Order sorties. Those were the KC-135, F-16, F-35, and EA-18. I thank Paul and AMCHAM for bringing up the idea of a fly-in when I first got here, and from there, all I really had to do was give the nod. From there, like you'll find all around Saber Nation, I just picked out a 25 year-old Captain that wanted to lead, and she crushed it with coordination and getting higher level approvals that we needed. It was a lot of coordination, and I know she reached out across the wing for help. Events like that are just another example of how far you can go, and how successful you can be—if you just give some guidance, then step away, and check in every now-and-then, to make sure things are still going how you want them to. I have indeed made great friends with folks in Luxembourg, and hope I can come back some day and do another fly-in!
Since you are soon leaving your current position, please summarize your lessons learned from this experience.
Two or three years ago we heard that the 480th Fighter Squadron, as part of a 10,000+ US Servicemen redux–would be leaving Germany. That was a shock to the Eifel, and the base. Fortunately, that was placed on hold—not just for the community, but importantly for the strategic posture in Europe. I think that having this base here at full complement has allowed us to be very impactful for recent crises like Operations ALLIES REFUGE and the current crisis in Ukraine. For that, our base rapidly deployed F-16s forward to Romania and brought in F-35s and EA-18 aircraft—those movements happened within days of the conflict starting. I've learned that every opportunity to talk about something good, is important. I've tried to do that, with talking a lot about the base, our Airmen, families, and community. I sure hope it "sticks," and has been heard around the globe.
My family and I will forever cherish this experience. While here, we've traveled all over—and my daughters collect magnets from every place we've gone. You can't see my refrigerator door with all the magnets on there. There are challenges that families face living overseas, but when you remined yourself of where you are, and make sure you experience it—you easily overcome those challenges, and it's so worth it. The people of Saber Nation, and those that support us in Germany, Luxembourg, and in other countries where we have servicemembers and our families are incredible. Our Airmen are also incredible. As I said, our Airmen make us how good we are…they are driven, they are energetic, they are innovative.
You have obviously had a very successful career experience. What are the three to five major things you have learned during your career journey and what career advice would you give a young man or woman just starting out on this path of adventure?
Enjoy it. Make and keep friends. Do your best. Make it better. Don't close control at the top.
Please share with our readers any advice and answers to any questions you would have liked to be asked.
Probably enough above?
The views and opinions expressed are those of the authors and do not necessarily reflect an official policy or position of AMCHAM.lu. Any content provided by our interviewees are of their opinion, and are presented in their own words.