For the sixth continuous year, PwC and Amcham were celebrating International Women's Day on 8 March 2023 from 11:30 to 14:00 at PwC Crystal Park.
This was an iconic moment to reflect on how far we want to push the gender needle in today's society.
Each year, we gather a group of insightful and daring speakers to nurture a genuine, inspirational and thought-provoking conversation around the opportunities
and challenges of gender balance and inclusion.
This year the stellar panel included: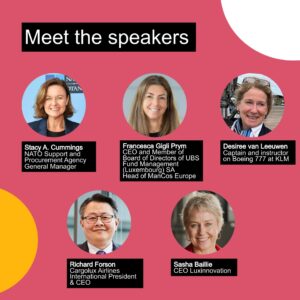 Desiree van Leeuwen, Captain and instructor on Boeing 777 at KLM

Francesca Prym, CEO and Member of Board of Directors of UBS Fund Management (Luxembourg) SA, Head of ManCos Europe

Richard Forson, Cargolux Airlines International President & CEO

Sasha Baillie, CEO Luxinnovation

Stacy A. Cummings, NATO Support and Procurement Agency General Manager
To guide this insightful conversation, we had Mary Carey as our moderator.
Our 2023 edition adopted the international theme of #EmbraceEquity.
It further questions our role to include gender equity in our day-to-day interactions.
During the event, we explored questions like:
What do you understand as the concept of equity and equality? What do you think is the difference?

How do you make people experience equity from your leadership style?

Do you see any particular dimension in today's society where greater equity is highly needed? Why do you think so?
Please enjoy the pictures hereunder for those who were not able to attend.