Available discount: 10%
https://navitours.lu/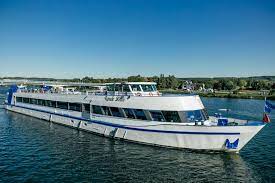 10% discount on panoramique tours (https://navitours.lu/en/croisiere/panoramic-promenade/)
10% discount on Lock Passage (https://navitours.lu/en/croisiere/lock-cruise/)
5% discount on Gourmet Cruises
5% discount on  La Péniche Vintage (www.vintageboat.lu)
5% discount on Events (https://navitours.lu/en/events/)
For all online reservations customers will be reimbursed when they present their card at boarding.
For purchases on site such as panoramic walks, customers will pay on site and will therefore benefit directly discount when presenting their card at the counter.
Treat yourself to a break on the water and join us on a voyage of discovery through the beautiful Moselle valley. Our panorama boat trip will take you up the Moselle,  through attractive wine-producing villages, such as Remich – the Pearl of the Moselle, Bech-Kleinmacher and Schwebsingen. The hour-long boat trip will take you past a wealth of beautiful sights, including the oldest castles in the Moselle region, the only yachting marina in Luxembourg, wineries, the "Haff Remich" nature reserve and much, much more. With a glass of Luxemburg Qualitätswein, or a cup of coffee and a slice of cake, you can enjoy the peace and quiet of the sun deck or the light and airy salon, on board one of the most modern passenger ships on the Moselle. Download the free "Lauschtour" audio tour app before you set sail for additional information during the boat trip.
Tour: Remich – Schwebsange – Stadtbredimus – Remich
from march till the end of october
Locations
Navitours Remich
Quai de la Moselle, L-5553 Remich
75 84 89