Available discount: %
https://howald.lasergame-evolution.lu/
2 EUROS DISCOUNT per service
Laser Game® Evolution Howald, new and unique in Luxembourg, from 7 to 77 years old, come with your family, friends or colleagues.
All occasions will be good to meet in a playful and sportive environment.
It's confusing, great and exciting at the same time. A light fog, you attend a real game of laser beams that go in all directions. The music drives you, the concentration wins you, you are caught in the game! You will only get out of it once your legs won't follow you anymore!
100% laser, the activity is an innovative leisure open to all, an extraordinary fun! It is in a space both dark and confusing, consisting of partitions, reflective areas, obstacles of all kinds, that players will try to flush out their friends in 3 maze rooms of 170 m2 to 300 m2 traversed by mezzanines and walkways.Players in teams of 4 to 35 people in an atmosphere made of music, black light and fog are looking for each other with the only goal to make his team win by scoring a maximum of points.Never has a leisure activity allowed so much interactivity between participants, everyone plays at the same time, we have fun while letting off steam with a single goal: To make your team win!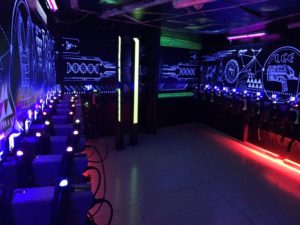 Locations
Lazergame Evolution
5, rue des Bruyères
2748 9490