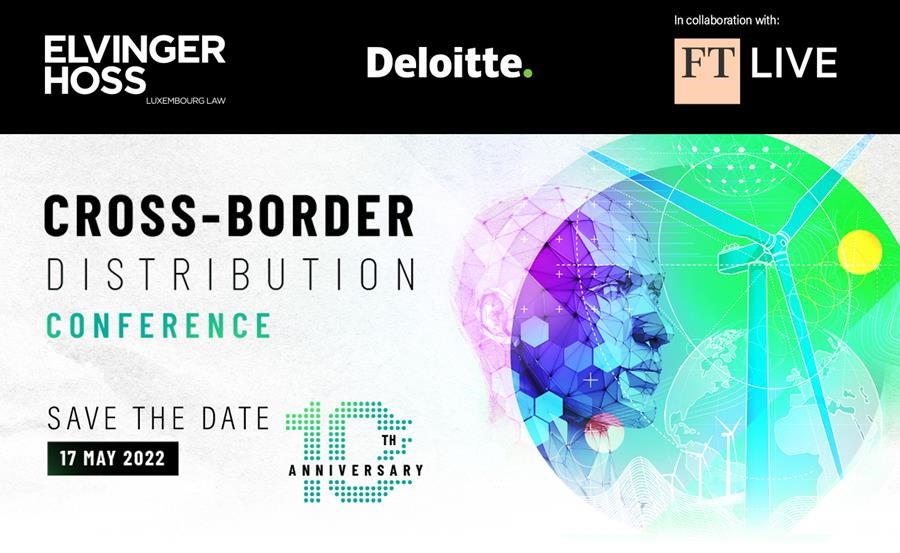 Dear Madam, Dear Sir,
We are delighted to announce the date of the 10th Annual Cross-Border Distribution Conference. Hosted by Elvinger Hoss Prussen and Deloitte, supported by Financial Times Live, the global events division of the Financial Times, the event will take place on 17 May 2022 in Luxembourg. We hope you will be able to join us.
In keeping with tradition, the 10th edition promises to be a key event for regulators, leading asset managers and experts to address the industry's hot topics relating to fund distribution. In particular, for this anniversary edition, we will focus on the challenging times we face in the COVID era, the impact of ESG regulations and of COP26 on climate change, amongst others. Come and join the debate on how today's products will shape those of tomorrow and how future distribution models will evolve.
When
Tuesday, 17 May 2022 from 8:30 to 17:30 (CEST)
Where
European Convention Center Luxembourg
4, Place de L'Europe / L-1499 Luxembourg
Access map
For international guests, digital attendance will also be possible.
To save the date for this conference in your calendar, please click here
An official invitation, together with the complete conference program, will be sent to you in due course.
Should you have any queries about this event, please contact luevents@deloitte.lu. 
We look forward to welcoming you to Luxembourg on 17 May 2022.
Sincerely,
Jacques Elvinger
Partner
Elvinger Hoss Prussen
jacqueselvinger@elvingerhoss.lu
Lou Kiesch
Partner
Deloitte Tax & Consulting
lkiesch@deloitte.lu